Centre for Academic
Studies and Research
Home
Centre for Academic Studies and Research (CASR) established in the year 2018 is a Centre of Excellence, which aims at providing high quality solutions to the problems in core Engineering and Engineering Education through research, development and extension activities.

This centre is facilitating the various Departments / courses in core engineering and engineering education masters and research programmes with the objectives.

The centre conducts PhD Research programmes in affiliation with University of Madras and Anna University; Post Graduate Programme ME Infrastructure Engineering and Management has been approved and offered from the academic year 2019-20, two more Post Graduate programmes are proposed to start from the academic year 2020-2021.
| | |
| --- | --- |
| | University of Madras |
| | Anna University |
| | |
| --- | --- |
| | Dept. of Civil & Environmental Engineering : ME (Infrastructure Engineering and Management) from 2019-2020 |
| | Centre for Educational Media Technology(CEMT): ME (Elearning Technologies) |
| | Electronics & Communication Engineering: M.Tech., ECE (Industry Integrated) |
| | |
| --- | --- |
| | Full-time Research fellowship offered to eligible PhD scholars based on the Terms and Conditions for the FTRF Scheme; Post Graduate students are also eligible for the scholarship from the MHRD based on their GATE score. |
Approval from Anna University




Professor In-charge
Dr.S.Renukadevi, MCA, M.Phil., Ph.D., Professor and Head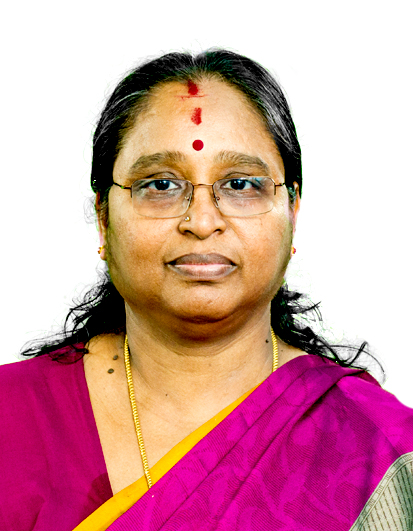 Contact
call

044 -2254 5464

email

bmrenuka@gmail.com

bmrenuka@nitttrc.ac.in
QUALIFICATION
| Degree | Institution/University | Specialization |
| --- | --- | --- |
| Ph.D | University of Madras | Computer Applications – Engineering Education |
| M.Phil | Bharathiar University | Computer Science |
| MCA | Bharathiar University | Computer Applications |
| PGDGC | Annamalai University | Guidance and Counselling |
AREAS OF SPECIALIZATION
| | |
| --- | --- |
| | Engineering Pedagogy and Psychology |
| | Training Technology |
| | Instruction Design and Delivery System (IDDS) |
| | Knowledge Management |
| | Educational Psychology |
| | Soft Skills |
| | Gender Studies |
| | Guidance and Counselling |
| | Transactional Analysis |
| | Emotional Intelligence |
| | Neuro-Linguistic Programming (Certified NLP Trainer) |
| | Yoga |
| | Healing techniques |
| | Offering a course on Student Psychology on MHRD SWAYAM Platform (5535 Learners). |
PROFESSIONAL EXPERIENCE
| | |
| --- | --- |
| | 30 years of Teaching and Research, out of which 25 years at NITTTR,Chennai. |
RESEARCH ACTIVITIES
| | |
| --- | --- |
| | Completed 4 doctoral Dissertations in Engineering Education |
| | Currently guiding 2 Scholars |
| | Experience in guiding Research projects at Master's Level |
| | Guided several Projects undertaken by Overseas Trainees |
| | Doctoral committee Member at IIT, Madras and University of Madras |
| | Conducted Ph.D.Viva Voce |
RESEARCH INTERESTS
| | |
| --- | --- |
| | Basic And Advanced Pedagogy |
| | Student Psychology |
| | Online Learner Engagement And Motivation |
| | Knowledge Management |
| | Personal Effectiveness Tools |
| | Neuro Liguistic Programming |
SIGNIFICANT ACHIEVEMENTS
| | |
| --- | --- |
| | Guided 5 doctoral Dissertation in the areas of Knowledge Management, Faculty Motivation, Software Engineering, Employability skills for Textile technology, Language Skills for Engineering Students. |
| | Coordinated around 20 overseas programmes and 150 FDPs. |
| | Completed a Swayam course on "Student Psychology", conducted it twice with 989 and 5535 learners respectively. |
| | Trained more than 130 overseas teachers on Women Empowerment through Technical and Vocational Education and 100 overseas teachers on Master Teacher Training (Basic and Advanced Pedagogy). |
| | Trained on "Information technology and Distance Education through Satellite" at University of Northumbria, Newcastle, UK. |
| | Visited 4 countries for paper presentation in Conferences. |
| | Conducted an International Conference of ISPA (USA) in India at VIT University, Vellore. |
| | Best paper awards in 2 Occasions, Best Teacher Award by Pondicherry Psychology Association and Psychometric Educational Services Award. |
PUBLICATIONS
| S.No | Publications | Number of Publications |
| --- | --- | --- |
| 1. | International Journals | 5 |
| 2. | National Journals | 10 |
| 3. | International Conferences | 7 |
| 4. | National Conferences | 7 |
| 5. | Learning Materials/Handouts | 25 |
| 6. | Book Chapters | 3 |
| 7. | Ph.D.Thesis | 5 |
| | |
| --- | --- |
| | (This part, I will be updating in a week as I am in the process of collating all my publications). |
CONFERENCE/WORKSHOPS CONDUCTED
| | |
| --- | --- |
| | Organized an International Conference of ISPA, US In India. |
| | Co-ordinated an International Symposium on "Women Empowerment". |
| | Co-ordinated 3 workshops. |
| | Co-ordinated a Seminar On "Human Resource Development in Technical Education". |
| | Coordinated an International Conference on "Women in Science and Technology". |
| | Coordinated an International Seminar on Curriculum Development Practices. |
| | Coordinated an International Seminar on 'E-Society". |
| | Coordinator, National Education Day Celebrations. |
| | Coordinator, NITTTRc Golden Jubilee Celebrations. |
EXPERIENCE ABROAD
| | |
| --- | --- |
| | Trained in Information technology and Distance education Through Satellite at the University of Northumbria at Newcastle, UK in 1999 for 8 weeks. Developed the Project proposal for "Virtual TTTI". |
COUNTRIES VISITED
| | |
| --- | --- |
| | Germany(Georgia Augusta University, Goettingen) |
| | UK (University of Newcastle at Norhumbria) |
| | Ireland (Dublin university, Dublin) |
| | Malta (University of Malta) |
| | Scotland (Edinburgh) |
| | Switzerland |
MEMBERSHIP
| | |
| --- | --- |
| | International School Psychology Association (ISPA) |
| | Indian Academy of Applied Psychology (Life Member) (Formerly Newsletter Editor and Joint Secretary, Presently Regional President) |
| | ISTE (Life Member) |
| | Indian School Psychology Association (InSPA) (Life Member) (State President) |
AWARDS
| | |
| --- | --- |
| | Best paper awards in 2 Occasions |
| | Best Teacher Award 2012 by Pondicherry Psychology Association |
| | Psychometric Educational Services Award 2005. |
OTHER ACTIVITIES
| | |
| --- | --- |
| | Formerly Asst. Academic Editor of the Journal of Technical and Vocational Education (International Journal published bi-annually from NITTTR, Chennai). |
| | Formerly Newsletter Editor of Indian Academy of Applied Psychology (IAAP). |
| | Formerly Member, Editorial Board of Social Engineer. |
| | Formerly Asst. Editor, JIAAP. |
| | Member, Staff Selection Committees of Govt. Institutions. |